Jurassic World: Dominion Dominates Fandom Wikis - The Loop
Play Sound
Dogman

Statistics
Level
HP
EXP
BP
17
98
39
15/10

Rounds
Cyanide
Acid
Tranq.
Heat
Freeze
Average
Average
Strong
Average
Average

Other
Confuse
Steal
Scan
Slow
Escape
Strong
Average
Weak
Strong
Possible

Item
Medicine 2, junk
Steal
Medicine 2, Medicine 1, Medicine 3
Attacks
Claw, shockwave
Location
NYPD
Dogmen are a type of NMC encountered in the N.Y.P.D. Police Station. They are presumably mutated police dogs, and Mitochondria Eve has given them an anthropomorphic form. However, on closer inspection, their art shows an upside-down human face merged with the dog's, implying she merged the dogs with the policemen into single beings.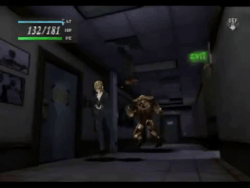 Resembling werewolves, they often attack in pairs and have an area-effect energy blast that deals low damage but halves your Defense, making them very dangerous. They will crouch slightly before performing this attack, however the window of opportunity to dodge is somewhat small. They will occasionally perform a close-range swipe that can do heavy damage, especially if your Defense has already been halved, however as long as you stay moving you might be able to dodge it. Due to Dogmens' high HP heavy weaponry is advised.
On the third level of the NYPD you will encounter a mini boss version of the Dogman killing a police officer. This is also the same Dogman that killed Torres Owens. It has the same strengths and weaknesses as the regular Dogmen but its shockwave attack effect is different. Instead of lowering the defense of Aya it will instead cut her HP in half.
Mini-Boss Dogman Stats
Level: 18
HP: 150
BP: 23/10
EXP: 45
Drops: SG550 rifle
Steal: Defense+1, Defense+2
Attacks: Claw, Shockwave
Weak: Scan
Location: NYPD
Chrysler Building
Dogman

Statistics
Level
HP
EXP
BP
52
980
920
44/11

Rounds
Cyanide
Acid
Tranq.
Heat
Freeze
Average
Average
Average
Average
Average

Other
Confuse
Steal
Scan
Slow
Escape
Average
Average
Weak
Strong
Possible

Item
Junk, Ammo +30, Revive
Steal
Medicine 4
Attacks
Claw, shockwave
Location
Chrysler Building Floors 61~70