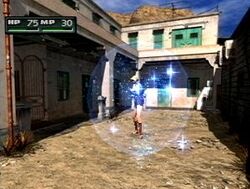 Dryfield, Nevada is the setting for most of Parasite Eve II. Aya Brea finds herself in this little town in the Mojave Desert.
Parasite Eve II
In Dryfield, Aya meets Gary Douglas, the only living resident left in Dryfield, and his dog Flint; who she proceeds to help and befriend. After several chains of events she saves Kyle Madigan on a water tower, and they journey underground into a mine.
The people responsible for the recent monsters and attacks have built an underground laboratory near Dryfield and have extensive knowledge on Aya herself. The more extras completed, the more Aya finds out about the secret base.
NMCs
v

·

e

·

d
Characters
Aya Brea - Eve Brea - Kyle Madigan
Rupert Broderick - Eric Baldwin - Gary Douglas - Flint - Pierce Carradine - No. 9 GOLEM - Jodie Bouquet
Neo-Mitochondrial Creatures
Bass - Bat - Black Beetle - Worms (Caterpillar, Maggot) - Amoeba (Green Amoeba, Red Amoeba) - Moth - Rat - Scorpion
Artificial Neo-Mitochondrial Creatures
Stranger (Grinning Stranger, Boss Stranger, Odd Stranger, Lesser Stranger, Creeping Stranger, Horned Stranger) - Stalker (Zebra Stalker, Gray Stalker, Ivory Stalker, Skull Stalker) - Suckler (Blood Suckler, Bone Suckler, Mind Suckler, Sucklerceph) - Scavenger - Chaser (Desert Chaser, Blizzard Chaser, Mad Chaser) - Fatties (Brute, Mossback, Slouch) - Diver (Bog Diver, Sea Diver) - Stinger (Brain Stinger, Puppet Stinger) - GOLEM (Pawn GOLEM, Rook GOLEM, Knight GOLEM, Bishop GOLEM)
Machines
Watcher - Derangement Speaker
Unique Neo-Mitochondrial Creatures
Boss Stranger - No. 9 GOLEM - Gray Stalker - Burner - Blizzard Chaser - Ivory Stalker - Glutton - Generator (Proto Generator, Beta Generator) - Sea Diver - Puppet Stinger - Brahman - Eve
Locations
Abandoned Mine - Akropolis Tower - Dryfield - M.I.S.T. Headquarters - Neo Ark - Shelter
Archives
Bounty Points - Weapons - Armor - Items - Ammunition - Rankings - Modes - Soundtrack