Frog

Statistics
Level
HP
EXP
BP
4
34
4
8/3

Rounds
Cyanide
Acid
Tranq.
Heat
Freeze
Average
Strong
Strong
Strong
Weak

Other
Confuse
Steal
Scan
Slow
Escape
Strong
Average
Weak
Strong
Possible

Item
Ammo+6, Medicine 1
Steal
Ammo+6
Attacks
Long ranged attack with tongue
Location
Carnegie Hall sewers
The mutant Frog Aya Brea encounters in the sewers is a man size creature with a prehensile tongue. Though slow and dull-witted, the speed and range of its darting tongue more than make up for its weakness. They are fairly easy to kill but later versions of them possess a Jump like attack and this can be hard to dodge due to how the attack works.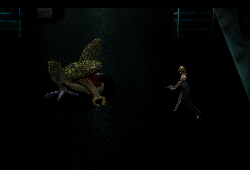 Chinatown sewers
Frog

Statistics
Level
HP
EXP
BP
24
153
425
12/8

Rounds
Cyanide
Acid
Tranq.
Heat
Freeze
Strong
Strong
Strong
Weak
Average

Other
Confuse
Steal
Scan
Slow
Escape
Strong
Average
Weak
Strong
Possible

Item
Medicine 2, Junk
Steal
Junk
Attacks
Long ranged attack with tongue
Location
Chinatown sewers
Chrysler Building
Frog

Statistics
Level
HP
EXP
BP
30
460
133
20/4

Rounds
Cyanide
Acid
Tranq.
Heat
Freeze
Average
Strong
Strong
Strong
Weak

Other
Confuse
Steal
Scan
Slow
Escape
Strong
Average
Weak
Strong
Possible

Item
Ammo+15
Steal
Medicine 3, Revive
Attacks
Long ranged attack with tongue
Location
Chrysler Building Floors 41-50