Jurassic World: Dominion Dominates Fandom Wikis - The Loop
Play Sound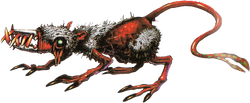 "
This really does involve NMCs, right? Last time I checked out a "creature" sighting, it was just a salesman in a fluffy chicken suit.

—Aya Brea, Parasite Eve II

"
Neo-Mitochondrial Creatures, sometimes called Neo-Mitochondrion Creatures, or NMCs for short, are enemies found in Parasite Eve and Parasite Eve II.
NMCs serve as the series main antagonists and "cannon fodder", each providing different means of attack, defense and styles. NMCs are encountered by the player very frequently to assist in leveling up Aya Brea's stats and provisions, and increase steadily in power and other offensive capabilities as the difficulty settings rise. At the beginning of the games, Aya is faced with more commonplace NMCs such as snakes and rats, but encounters more complex organisms as the game nears its climax, such as reanimated dinosaurs.
A scientific view of NMCs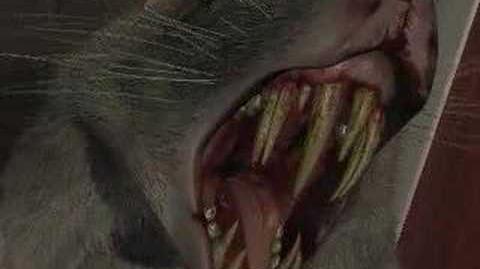 NMCs are mutated animals or otherwise normal life forms taken over and controlled by their modified mitochondria. Mitochondria are harmless at first, but when they evolve consciousness by mutating, they become awakened neo-mitochondria. The mitochondria generates extreme amounts of ATP energy, causing drastic changes in the cell nuclei, as well as the death of the host organism. This results in mutations such as growth, extra limbs and/or appendages, as well as a rather horrific and unnatural disfigured look.
They also exhibit increased hostility in their behavioral patterns. Most NMCs are driven by the most basic of needs, such as to feed on anything in the vicinity, which usually includes humans. They are alarmingly efficient in teamwork in most situations and will work together to attack a "normal" creature. However, if presented with no prey in the environment; they will not hesitate to attack and consume each other.
Parasite Eve
Neo-Mitochondrial Creatures were first created soon after Melissa Pearce's transformation to Mitochondria Eve. After escaping from Aya Brea and causing everyone in Carnegie Hall to ignite in flames, she wreaked havoc throughout New York City by transmogrifying every normal animal she came in contact with into NMCs. This caused an invasion of the city populated by numerous creatures. Aya kills NMCs in order to end their suffering, eliminate the danger they possess, and prevent them from multiplying.
During the New York Blockade Incident, these creatures included but were not limited to:
Regular
Boss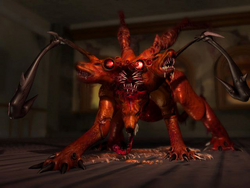 Chrysler Building
The Chrysler Building became swarmed with NMCs. For organizational sake, only new NMCs seen in the Chrysler Building are listed here:
Parasite Eve II
Mitochondrion Investigation and Suppression Team, or MIST, is an FBI branch that hunts down all of the remaining NMCs.
NMCs also appear in Parasite Eve II but the variants are very different than their predecessor variants. Many of these are small and insignificant creatures that were created in a secondary manner, namely them being transformed due to the release of ANMCs or the experiments that produced them. They are not as dangerous overall as the ANMC that really has replaced it as the main enemy. For all intents and purposes, they are nearly identical to their cousins.
Artificial type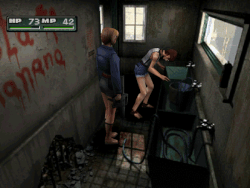 See also: ANMCs category.
Artificial Neo-Mitochondrial Creatures or ANMCs were introduced in Parasite Eve II. They are experimental lifeforms created under the 2nd Neoteny Plan. The 2nd Neoteny Plan harnesses the evolutionary potential of neo-mitochondria to revitalize the human race and to ensure its survival in the face of mankind's hold on the planet as apex species and their effects on the natural environment.
Stage 1;
Obtain sample neo-mitochondria with latent power equal to or greater than that responsible for the N.Y. incident.
Stage 2;
Administer sample to a test subject. Redesign subject's genetic profile to explore evolutionary properties and multiple ANMC breeds.
Stage 3;
Release humanity's true potential and preserve its vitality in the coming century through planned evolution.
ANMCs are mutants transmogrified by human and/or chemical genetic alteration procedures through the use of neo-mitochondria (otherwise impossible without a catalyst such as Eve) and are technically clones of Aya after a rebellion from the test subject versions that were created earlier. Created from willing human subjects, ANMCs are touted as the paramount vision of mankind's evolution to maintain the natural balance. They are, nevertheless, uncanny and unnatural creatures whom are little more than NMCs by human agency among those who would gladly throw away their humanity to become little more than feral creatures that live off of blind instinct and abandon. Their implementation into Earth's biosphere would have likely included terrorizing and preying upon mankind to ensure "natural selection" and population control into a new age of fear and existential uncertainty as new but unnatural and forced apex predators.
They exhibit the same ecology behavior as "regular" NMCs but are often fitted with cybernetic armaments in their physiology (such as flamethrowers, energy swords, and prosthetic limbs). They came into existence via a shadow government named Neo Ark. They have implants to track their location. The classifications of these ANMCs included but were not limited to:
Regular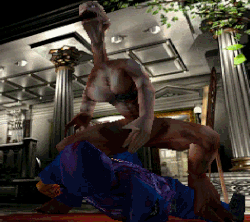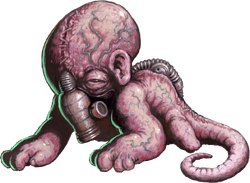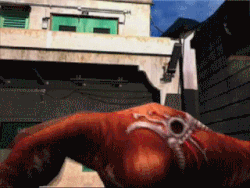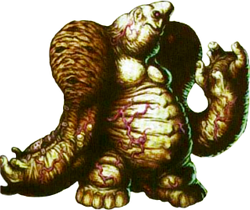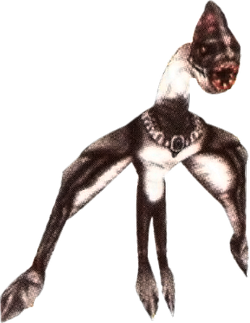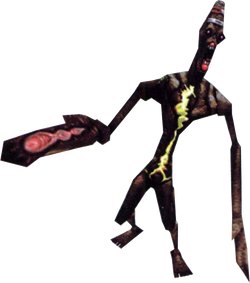 Boss
v

·

e

·

d
Characters
Aya Brea - Eve Brea - Kyle Madigan
Rupert Broderick - Eric Baldwin - Gary Douglas - Flint - Pierce Carradine - No. 9 GOLEM - Jodie Bouquet
Neo-Mitochondrial Creatures
Bass - Bat - Black Beetle - Worms (Caterpillar, Maggot) - Amoeba (Green Amoeba, Red Amoeba) - Moth - Rat - Scorpion
Artificial Neo-Mitochondrial Creatures
Stranger (Grinning Stranger, Boss Stranger, Odd Stranger, Lesser Stranger, Creeping Stranger, Horned Stranger) - Stalker (Zebra Stalker, Gray Stalker, Ivory Stalker, Skull Stalker) - Suckler (Blood Suckler, Bone Suckler, Mind Suckler, Sucklerceph) - Scavenger - Chaser (Desert Chaser, Blizzard Chaser, Mad Chaser) - Fatties (Brute, Mossback, Slouch) - Diver (Bog Diver, Sea Diver) - Stinger (Brain Stinger, Puppet Stinger) - GOLEM (Pawn GOLEM, Rook GOLEM, Knight GOLEM, Bishop GOLEM)
Machines
Watcher - Derangement Speaker
Unique Neo-Mitochondrial Creatures
Boss Stranger - No. 9 GOLEM - Gray Stalker - Burner - Blizzard Chaser - Ivory Stalker - Glutton - Generator (Proto Generator, Beta Generator) - Sea Diver - Puppet Stinger - Brahman - Eve
Locations
Abandoned Mine - Akropolis Tower - Dryfield - M.I.S.T. Headquarters ( Shooting gallery ) - Neo Ark - Shelter
Archives
Ammunition - Armor - Bounty Points - Items - Gameplay - Modes - Rankings - Shops - Soundtrack - Weapons