We're Getting Mutants in the MCU - The Loop
Play Sound
New York City is the most populous city in the United States and the setting of Parasite Eve and The 3rd Birthday. It also makes a small cameo in Parasite Eve II.
Parasite Eve
In Parasite Eve, New York City is evacuated December 25, 1997, due to the threat of Mitochondria Eve. Approximately 1287 people are killed, either by Eve or the various NMCs that overrun the city. The city, along with humanity and animals, is saved when Aya Brea kills Eve and the Ultimate Being.
Locations include:
Parasite Eve II
In the true ending, Aya, Eve Brea and Kyle Madigan visit the American Museum of Natural History in September 2001. For 10 years, between 2000-2010, it is implied the trio lived in New York. Eve attended school with Emily Jefferson and graduated from State University of New York in 2008.
The 3rd Birthday
On December 24, 2012, at 5:00PM, New York City was torn apart by a strange organic structure that emerged from underground, which was later dubbed the "Babel". After the Babel had risen, masses of Twisted slaughtered many people in the city, eventually claiming a death toll of 3,000,000.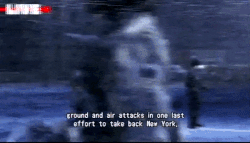 New York City is evacuated again, except for those involved with the Counter Twisted Investigation and military. The military begins conducting many missions and strategical operations in an effort to take back the city from the Babel and the Twisted.
Locations include:
Gallery
Parasite Eve
The 3rd Birthday
NYC in reality