We're Getting Mutants in the MCU - The Loop
Play Sound
Queen

Statistics (Easy)
HP
EXP
BP
41250
2500
1400

Statistics (Normal)
HP
EXP
BP
82500
2500
1400

Statistics (Hard)
HP
EXP
BP
148500
3430
2800

Statistics (Deadly)
HP
EXP
BP
259875
4180
4200

Statistics (Insane)
HP
EXP
BP
445500
5740
5600

Resistant to Recoil
B
Resistant to Stagger
C
Episode(s)
2,6
Descent Kill
Yes
The Queen, also secretly known as the Big Orb (the "heart" of the Babel), is a huge Twisted in The 3rd Birthday. It is fought in the middle of Chapter 2: The Lost Soul and at the start of Chapter 6: Eternity.
Appearance
The Queen's appearance as its name suggest looks like a queen. The Queen's head portion, arms and bottom portion looks like a dress.
Strategy
VIDEO STRATEGY HERE
---
The Queen's attacks are mostly one hit kills as Aya Brea cannot move (except Overdive) in the domain. The Queen's attacks consist of sticking out its tongue and devouring Aya, releasing twisted rays which kills Aya instantly and creating a huge vortex sucking in all bodies. It is best to dodge this attack by Overdiving into people furthest away from the vortex.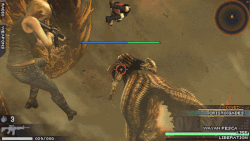 Effective methods of attack are to blow up trucks and cars near the Queen for an instant Overdive Kill, or using launchers and/or Shotguns to lead to an Overdive Kill. A well placed rifle shot in the Queen's open mouth right as it attacks, though risky, causes twice the damage and quicker Overdive Kills.
Report entry
The Babel's core was thought to contain the Big Orb. Instead, Aya found herself face to face with the Queen.
The Babel's interior is a world where the future mingles within indeterminate time-space, the Queen uses descent attacks on humans, turning them into Twisted to obtain the nutrition necessary for the Babel to thrive.
Since Aya is an uncertain being herself, she has no choice but to fight the Queen as a floating embodiment of consciousness.
If Aya can dodge the Queen's descent attack, consisting of psychic waves and countless Twisted entities, and manage to successfully Overdive into a human who's already been engulfed, she'll be able to fire at the Babel's core: the Queen.
Sniper rifle sweet spot: Inside the mouth.
Trivia
In some files, the Queen is shown to be the Big Orb.
When Aya first sees the Queen in Chapter 2, Queen is shown transforming a soldier into a Twisted and sends it into another dimension.
While fighting Queen the music "Queen" plays in both of her fights.
The Queen, along with the Reaper, are the only Twisted enemies that cannot be killed via Overdive Kill, even with/during Liberation. The Reaper is immune to such attack, while Liberation cannot be used while fighting the Queen.
The Queen is an easy way to level weapons.[1]
Gallery