We're Getting Mutants in the MCU - The Loop
Play Sound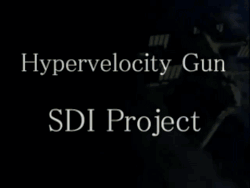 The "Elephant" SDI weapon, codenamed D306, is a Cold War relic from the SDI (Strategic Defense Initiative) program from the 1980s.
Parasite Eve II
With the information obtained by the US government mole and the dangers of another NYC Blockade style event, the president authorized its use, without congressional approval, to target and destroy Dryfield and the shelter.
The Elephant did so. Since Dryfield was a barren and abandoned town, only Gary Douglas seems to have been seriously injured, but he recovered. The Elephant also destroyed Kyle Madigan's leg.
Gallery
v

·

e

·

d
Characters
Aya Brea - Eve Brea - Kyle Madigan
Rupert Broderick - Eric Baldwin - Gary Douglas - Flint - Pierce Carradine - No. 9 GOLEM - Jodie Bouquet
Neo-Mitochondrial Creatures
Bass - Bat - Black Beetle - Worms (Caterpillar, Maggot) - Amoeba (Green Amoeba, Red Amoeba) - Moth - Rat - Scorpion
Artificial Neo-Mitochondrial Creatures
Stranger (Grinning Stranger, Boss Stranger, Odd Stranger, Lesser Stranger, Creeping Stranger, Horned Stranger) - Stalker (Zebra Stalker, Gray Stalker, Ivory Stalker, Skull Stalker) - Suckler (Blood Suckler, Bone Suckler, Mind Suckler, Sucklerceph) - Scavenger - Chaser (Desert Chaser, Blizzard Chaser, Mad Chaser) - Fatties (Brute, Mossback, Slouch) - Diver (Bog Diver, Sea Diver) - Stinger (Brain Stinger, Puppet Stinger) - GOLEM (Pawn GOLEM, Rook GOLEM, Knight GOLEM, Bishop GOLEM)
Machines
Watcher - Derangement Speaker
Unique Neo-Mitochondrial Creatures
Boss Stranger - No. 9 GOLEM - Gray Stalker - Burner - Blizzard Chaser - Ivory Stalker - Glutton - Generator (Proto Generator, Beta Generator) - Sea Diver - Puppet Stinger - Brahman - Eve
Locations
Abandoned Mine - Akropolis Tower - Dryfield - M.I.S.T. Headquarters ( Shooting gallery ) - Neo Ark - Shelter
Archives
Ammunition - Armor - Bounty Points - Items - Gameplay - Modes - Rankings - Shops - Soundtrack - Weapons