Slouch

Statistics
HP
EXP
BP
MP
120
12
36
1

Attacks
Name
Status
Damage
Slash
Spit
-

20
12
Notes:
-

Other
Strength
Weakness
None

Item Drops
Location
Shelter
The Slouches are failed Fatty monsters. These ANMC are actually more dangerous than the others in this class because their attacks are far more accurate and many of them are fought in close quarters.
Slouches are not too difficult to kill, having less than half of the HP of their Brute cousins while still bearing the same weakness to critical hits. They can flail their arm but also spit poison, which strikes at surprising range and can lead to damage at greater distances then a player would expect. Even when suffering from PARALYSIS, the arm can still harm Aya, so take care should the player ever get too close to one.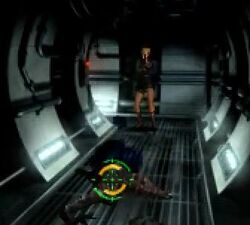 v

·

e

·

d
Characters
Aya Brea - Eve Brea - Kyle Madigan
Rupert Broderick - Eric Baldwin - Gary Douglas - Flint - Pierce Carradine - No. 9 GOLEM - Jodie Bouquet
Neo-Mitochondrial Creatures
Bass - Bat - Black Beetle - Worms (Caterpillar, Maggot) - Amoeba (Green Amoeba, Red Amoeba) - Moth - Rat - Scorpion
Artificial Neo-Mitochondrial Creatures
Stranger (Grinning Stranger, Boss Stranger, Odd Stranger, Lesser Stranger, Creeping Stranger, Horned Stranger) - Stalker (Zebra Stalker, Gray Stalker, Ivory Stalker, Skull Stalker) - Suckler (Blood Suckler, Bone Suckler, Mind Suckler, Sucklerceph) - Scavenger - Chaser (Desert Chaser, Blizzard Chaser, Mad Chaser) - Fatties (Brute, Mossback, Slouch) - Diver (Bog Diver, Sea Diver) - Stinger (Brain Stinger, Puppet Stinger) - GOLEM (Pawn GOLEM, Rook GOLEM, Knight GOLEM, Bishop GOLEM)
Machines
Watcher - Derangement Speaker
Unique Neo-Mitochondrial Creatures
Boss Stranger - No. 9 GOLEM - Gray Stalker - Burner - Blizzard Chaser - Ivory Stalker - Glutton - Generator (Proto Generator, Beta Generator) - Sea Diver - Puppet Stinger - Brahman - Eve
Locations
Abandoned Mine - Akropolis Tower - Dryfield - M.I.S.T. Headquarters ( Shooting gallery ) - Neo Ark - Shelter
Archives
Ammunition - Armor - Bounty Points - Items - Gameplay - Modes - Rankings - Shops - Soundtrack - Weapons
Community content is available under
CC-BY-SA
unless otherwise noted.