Spitter

Statistics (Easy)
HP
EXP
BP
750
300
80

Statistics (Normal)
HP
EXP
BP
937
300
80

Statistics (Hard)
HP
EXP
BP
1687
520
160

Statistics (Deadly)
HP
EXP
BP
5060
630
240

Statistics (Insane)
HP
EXP
BP
6747
860
320

Resistant to Recoil
N/A
Resistant to Stagger
N/A
Episode(s)
4
Descent Kill
No
Spitters are a species of Twisted from The 3rd Birthday that only appear during Chapter 4: The Moment of Truth.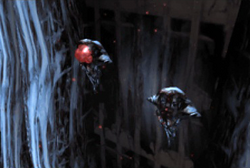 They appear to be in a cocoon-like state. They appear to be Babel protectors in the air, striking down any airborne threats in their path. Spitters are a defensive weapon found scattered across the Babel's exterior wall. They appear to be independent organisms, their grotesque and unsettling forms verging on the crustacean.
Their only attack is firing blood stained balls at Aya. Before unleashing an attack, their shells part suddenly to reveal a hideous sphere containing a liquid resembling human blood. The sphere expands and bursts, releasing a projectile. Spitters can not be damaged while their shells are closed.
Large stats
Easy: 1200 HP, 500 EXP, 100 BP
Normal: 1500 HP, 500 EXP, 100 BP
Hard: 2700 HP, 810 EXP, 200 BP
Deadly: 8100 HP, 950 EXP, 300 BP
Insane: 10800 HP, 1220 EXP, 400 BP