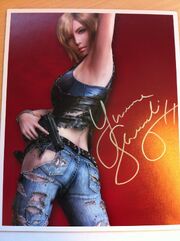 Siliconera.com is having a contest for a chance to win a signed Aya Brea poster by her voice actor, Yvonne. To enter the contest you simply need to create a birthday card for Aya and send it in. It can be an original card or e-card, however the message needs to be original and Parasite Eve-based.
Rules:
E-mail your entry to siliconera.contest@gmail.com with "Aya Brea's birthday" in the subject line if you design your own card.
If you use an e-greeting card maker *please* make sure your e-mail address is somewhere so we can contact you.
Residents in the USA and Canada are welcome to enter.
Source: http://www.siliconera.com/2011/03/29/contest-get-autographed-aya-brea-artwork-from-the-3rd-birthday/