We're Getting Mutants in the MCU - The Loop
Play Sound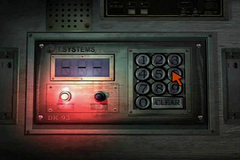 The Water Bridge Puzzle is found in Parasite Eve II. It is encountered at the Bridge near the end of the Akropolis Tower level.
Solution
The sheet music on the wall in the Security Room gives the answer. The top measure shows three notes, all with different number values. The bottom measure gives the code to the bridge, but the top measure is the key to decoding it. If the notes at the top represent line 1, space 2, and line 3, then the bottom notes must represent line 5, space 6, and line 1.
The solution is 561.
v

·

e

·

d
Characters
Aya Brea - Eve Brea - Kyle Madigan
Rupert Broderick - Eric Baldwin - Gary Douglas - Flint - Pierce Carradine - No. 9 GOLEM - Jodie Bouquet
Neo-Mitochondrial Creatures
Bass - Bat - Black Beetle - Worms (Caterpillar, Maggot) - Amoeba (Green Amoeba, Red Amoeba) - Moth - Rat - Scorpion
Artificial Neo-Mitochondrial Creatures
Stranger (Grinning Stranger, Boss Stranger, Odd Stranger, Lesser Stranger, Creeping Stranger, Horned Stranger) - Stalker (Zebra Stalker, Gray Stalker, Ivory Stalker, Skull Stalker) - Suckler (Blood Suckler, Bone Suckler, Mind Suckler, Sucklerceph) - Scavenger - Chaser (Desert Chaser, Blizzard Chaser, Mad Chaser) - Fatties (Brute, Mossback, Slouch) - Diver (Bog Diver, Sea Diver) - Stinger (Brain Stinger, Puppet Stinger) - GOLEM (Pawn GOLEM, Rook GOLEM, Knight GOLEM, Bishop GOLEM)
Machines
Watcher - Derangement Speaker
Unique Neo-Mitochondrial Creatures
Boss Stranger - No. 9 GOLEM - Gray Stalker - Burner - Blizzard Chaser - Ivory Stalker - Glutton - Generator (Proto Generator, Beta Generator) - Sea Diver - Puppet Stinger - Brahman - Eve
Locations
Abandoned Mine - Akropolis Tower - Dryfield - M.I.S.T. Headquarters ( Shooting gallery ) - Neo Ark - Shelter
Archives
Ammunition - Armor - Bounty Points - Items - Gameplay - Modes - Rankings - Shops - Soundtrack - Weapons