Worms are NMCs that are small creatures that can be dangerous since they take in numbers and are hard to deal with without Combustion or other area of effect attacks.
Caterpillars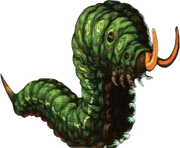 Main article: Caterpillar
These appear early on in Akropolis Tower and then very rarely in the Shelter. They aren't too dangerous and can be killed very easily. Their numbers can be cut down with the shotgun or Combustion.
Maggots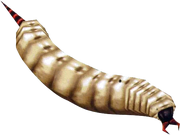 Main article: Maggot
A much stronger and more dangerous version of the Caterpillar, Maggots have far more HP and consequently are much more dangerous. Combustion works well as it can quickly deal good damage against them in a hurry. They aren't too dangerous however.
v

·

e

·

d
Characters
Aya Brea - Eve Brea - Kyle Madigan
Rupert Broderick - Eric Baldwin - Gary Douglas - Flint - Pierce Carradine - No. 9 GOLEM - Jodie Bouquet
Neo-Mitochondrial Creatures
Bass - Bat - Black Beetle - Worms (Caterpillar, Maggot) - Amoeba (Green Amoeba, Red Amoeba) - Moth - Rat - Scorpion
Artificial Neo-Mitochondrial Creatures
Stranger (Grinning Stranger, Boss Stranger, Odd Stranger, Lesser Stranger, Creeping Stranger, Horned Stranger) - Stalker (Zebra Stalker, Gray Stalker, Ivory Stalker, Skull Stalker) - Suckler (Blood Suckler, Bone Suckler, Mind Suckler, Sucklerceph) - Scavenger - Chaser (Desert Chaser, Blizzard Chaser, Mad Chaser) - Fatties (Brute, Mossback, Slouch) - Diver (Bog Diver, Sea Diver) - Stinger (Brain Stinger, Puppet Stinger) - GOLEM (Pawn GOLEM, Rook GOLEM, Knight GOLEM, Bishop GOLEM)
Machines
Watcher - Derangement Speaker
Unique Neo-Mitochondrial Creatures
Boss Stranger - No. 9 GOLEM - Gray Stalker - Burner - Blizzard Chaser - Ivory Stalker - Glutton - Generator (Proto Generator, Beta Generator) - Sea Diver - Puppet Stinger - Brahman - Eve
Locations
Abandoned Mine - Akropolis Tower - Dryfield - M.I.S.T. Headquarters - Neo Ark - Shelter
Archives
Ammunition - Armor - Bounty Points - Items - Gameplay - Modes - Rankings - Shops - Soundtrack - Weapons
Community content is available under
CC-BY-SA
unless otherwise noted.